Revenge Porn and Chrissy Chambers' Case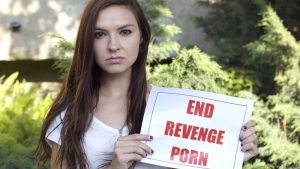 Revenge porn is a criminal act where intimate sexual images or videos are uploaded to the internet without consent, with the intent to cause distress or embarrassment. Anyone found guilty of this could face up to 2 or more years in prison. In recent news, vlogger Chrissy Chambers has been fighting her argument at the High Court after her ex-boyfriend uploaded 6 intimate sexual videos to redtube.com without her knowledge or consent, nor did she have any knowledge of these videos even being filmed.
The videos were on the internet for an overall 19 months, where during this time Chrissy had developed a post-traumatic distress disorder, along with a mass decrease in following on her vlogs. On 18th January 2018, Chrissy's ex-boyfriend agreed that the posting of the videos was a breach of confidence, right to privacy and misuse of private information and Chrissy had the videos copyrighted under her name to help future protection.
A new law will be put into place which evolved from the misuse of communication, domestic violence and sexual offences acts, criminalising the sharing of private sexual images or intimate films with the purpose of causing embarrassment or distress. The Ministry of Justice is launching a new campaign: Be Aware B4 You Share in order to help raise awareness of this topic, and to also deter anyone from doing this in the future.
How Tuckers Solicitors can help you in relation to Revenge Porn…
If you have any queries about this article, or are looking to speak to one of our highly experienced lawyers about this area, please contact Richard Egan on suttons@tuckerssolicitors.com or 02033895072.
Our offices are open 24 hours a day, 7 days a week, ready to deliver immediate and expert legal advice and representation.