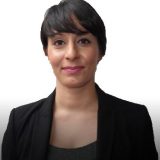 Harjit Rashoda
Office
Birmingham Central
Contact tel
01212364324 (ext.6112)
Harjit qualified as a Solicitor in October 2006 having completed her training contract at Tuckers Solicitors. Prior to qualification, she prepared cases for trial in the Crown Court, including complex cases falling into the VHCC category.  She is also a qualified accredited Police Station Advisor and represents clients detained in police custody and in DWP interviews.
Harjit represents clients at all stages of hearings in the Youth Court and Magistrates Court, from the initial plea through to trial.  She is a core member of the Magistrates Court team at Tuckers Solicitors Birmingham office.  She is also an experienced trial advocate, having undertaken a large number of trials covering a range of offences from relatively minor public order matters through to more serious cases such as robbery and drugs offences.
Harjit is a qualified Duty Solicitor and is consequently on the Birmingham duty scheme for the Magistrates Court, Crown Court and Police Stations.  She continues to regularly attend at police stations to represent clients who have been arrested and does so both in and out of office hours as Tuckers Solicitors provides 24 hours legal assistance and representation.
Harjit is respected for her outstanding advocacy skills, her attention to detail, and her ability to always ensure the best possible results for her clients.