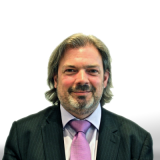 Iain Johnstone
Office
Manchester Mosley Street
Contact tel
01612334321 (ext.1046)
Mobile
07711 679 895
Position
Solicitor Advocate
Practices
Iain started his legal career in the Magistrates' Courts Service in 1984 and qualified as a solicitor in 1991 before joining Tuckers in 1992.
Shortly after joining the firm, and drawing on the substantial knowledge of the subject that he had gained as a legal advisor to the Magistrates, Iain set up our specialist Road Traffic Department which he ran alongside his regular criminal caseload. The Department has since expanded, and deals with numerous trials at any given time, as well as successfully presenting numerous hardship arguments to avoid potential driving disqualifications.
In 1994 Iain was admitted as a duty solicitor on to the Manchester Duty Solicitor scheme, covering both the Magistrates court and the numerous police stations within the court's petty sessional area. It was also at this time that he started to develop his Crown Court career dealing with committals for sentence and appeals, mainly for our motoring clientele.
In 2003 Iain gained the Higher Courts (Criminal Proceedings) Qualification and became a full time member of our specialist Crown Court Advocacy Team, dealing with all aspects of criminal law in the higher courts.
Iain represents clients at all stages of criminal proceedings, from the police station to the House of Lords