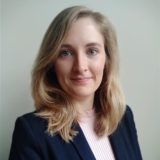 Lucinda Hawthorn
Office
London Warren Street
Contact tel
02073888333
Mobile
07811 483 718
Position
Solicitor
Practices
Lucinda is a solicitor in the Civil Liberties and Human Rights Department, which encompasses Police Law, Prison Law and Public Law. She is also a solicitor in the Health and Safety department, bringing prosecutions on behalf of the Health and Safety Executive alongside Senior Partner, Jim Meyer.
Lucinda joined Tuckers Solicitors in 2017 and has worked in the Civil Liberties and Human Rights Department since then, more recently developing her work in Health and Safety.
Her current cases include acting for a family in a claim against a psychiatric hospital in relation to the death of their father; and acting for a man who was kept in segregation ('solitary confinement') for almost three years in a claim for breach of his right to not experience inhuman or degrading treatment at the hands of the State. She is also working on a number of ongoing Health and Safety cases.
Lucinda has worked with Andre Clovis in the Civil Liberties and Human Rights Department on a variety of complex civil actions against the state, including actions against the police, local councils, and government departments for: malicious prosecution, misfeasance, false imprisonment, assault, and breaches of the Human Rights Act. She also has experience of police complaints, Criminal Injuries Compensation Authority [CICA] claims as well as assisting in representing families at Inquests.
Lucinda worked with Sean Horstead of Garden Court on the Inquest into the death of Suleyman Yalcin, who was killed after being hit by a speeding police van in north London. The family obtained a favourable outcome.
In addition, Lucinda worked alongside Andre Clovis & Frances Frost on the successful judicial review brought against the CPS by the mother of Lewis Johnson.
Lucinda is a member of Police Actions Lawyers Group, Inquest Lawyers Group and Amnesty International.