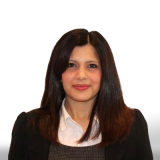 Samina Ahmed
Office
Manchester Mosley Street
Contact tel
01612334321 (ext.1082)
Mobile
07740 722 695
Position
Solicitor
Practices
Languages
Urdu, Punjabi
Samina is a Criminal Defence Solicitor.
Based at our Manchester office but operating throughout the country, Samina specialises in prison law matters including prisoners serving Life sentences.
As one of our expert, specialist Solicitors within our Prison Law Department, Samina enjoys a reputation within her field which is second to none. Samina's passion for her client's rights has earned her the tough, no nonsense approach she is renowned for within the prison system.
Despite her tough approach with the prison service, Samina's personable approach with her clients and true understanding of their plight enables her to represent her client's best interests at all times.
Samina deals with every aspect of prison law including Judicial Review, Category Reviews, Adjudications, Tariff Expiry Reviews and Oral Hearings.
Samina is trilingual and speaks Urdu and Punjabi fluently.
Despite Samina's Niche practice area, Samina regularly attends police stations to represent client's in respect of all manner of offences, thus ensuring that the firm can truly offer 24 hour advice and assistance