Aeroplanes & Alcohol – a good mix?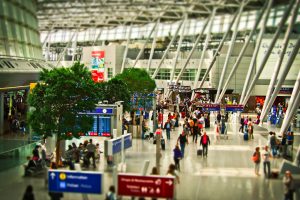 Recent reports suggest that that around 500 people have been arrested while drunk on aeroplanes in the last three years.  For many people a holiday begins once cases have been checked in.  But concerns have prompted the airline industry to ask the government to take steps to help reduce disruption on aeroplanes, by addressing licencing in airports, especially as the airport bars are currently exempt from certain restrictions.  Airlines are also taking direct action in an attempt to reduce the risk, including banning taking alcohol on board in hand luggage.
Regular licensing laws do not apply at airport bars located on the airside of security. In November 2018 the government consulted on a proposal that rules be changed to make the law the same as for bars outside of airports, but no new legislation has yet been introduced.
For now, the UK airline industry has a voluntary code of practice which says that there is a zero-tolerance approach to disruptive behaviour on aeroplanes and airlines and airport staff work together to prevent and minimise incidents, for example by not selling alcohol to intoxicated customers.
In the event that you do consume too much alcohol before getting on board an aeroplane, there are criminal offences that can be committed – and the courts view these very seriously.  These include being drunk on an aeroplane, endangering the safety of an aeroplane and acting in a disruptive manner.  
The courts have said that being drunk on an aeroplane will usually result in an immediate custodial sentence even for someone of previous good character.  To commit an offence of being drunk on an aeroplane a person simply has to be drunk, they do not also have to be disruptive. The offence can be dealt with at the Crown Court and carries up to 2 years imprisonment, the same penalty applies to people acting in a disruptive manner on an aeroplane or endangering the safety of an aeroplane.
UK courts have jurisdiction to deal with any offences committed on board any aeroplane on the ground, or in the air, over the UK.  There are also international conventions that mean offences committed in the skies anywhere are subject to a local jurisdiction.  So whilst the UK punishments for these offences can be severe – it could be considerably worse if you are arrested in a foreign jurisdiction.
How we can assist
If you need specialist advice in relation to any criminal investigation or prosecution, then get in touch with us at tuckers@tuckerssolicitors.com or on 0845 200 3367and let us help. We can advise on all aspects of your case.