Public Order Offences – New Sentencing Guidelines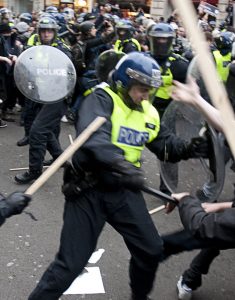 In the latest revision to the sentencing guidelines, new guidelines for public order offences come in to force for adults sentenced on or after 1 January 2020.
Although most public order offences are not considered to be amongst the most serious crimes, they do occupy a lot of court time with 18,600 offenders sentenced for public order offences covered by the guidelines in 2018 – most commonly offences relating to threatening and disorderly behaviour provided for by section 4, section 4A and section 5 of the Public Order Act 1986.
Perhaps surprisingly, given the concerns in society about anti-social behaviour, there have been some reductions to sentencing ranges and starting points for the different levels of offence seriousness for the most common offences. It is possible that the decrease to sentence levels in the guideline could lead to a decrease in sentencing severity for these offences, including the possibility that some individuals who would have received a custodial sentence may now receive a community order.
For racially or religiously aggravated threatening behaviour and racially or religiously aggravated disorderly behaviour with intent, the approach will be to consider the sentence for the basic offence and then increase the sentence considering the level of racial or religious aggravation involved. This 'uplift' approach reflects Court of Appeal guidance on how aggravated offences should be sentenced, and aligns with current practice in relation to assessing the level of aggravation present in offences. This is the same process as used in connection with some other offences already (including arson and criminal damage). Some research has suggested that this approach could cause an increase to severity of sentences for these offences. sentencing severity.
As ever, our advocates will be vigilant to ensure full adherence to the guideline and act to ensure that any sentences that are handed down are appropriate in all the circumstances.
If you need specialist advice in relation to any criminal investigation or prosecution, then get in touch with us at tuckers@tuckerssolicitors.com or on 0845 200 3367.
(Image credit: Tomasz Iwaniec; https://creativecommons.org/licenses/by/2.0/ )