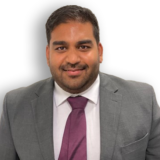 Aaron Patel
Office
Birmingham Central
Contact tel
01212364324
Mobile
07984555151
Position
Solicitor
Practices
Aaron is a qualified Duty Solicitor representing and advising Clients at the Police Station, Magistrates' Court and the Youth Court. He also has experience in preparing serious cases for trial at the Crown Court.
He has dealt with a wide variety of cases including but not limited to allegations of Robbery, Burglary, Theft, Public Disorder, Criminal Damage, Offensive Weapons, Drugs related offences, Sexual offences, and Violence related offences.
Aaron is a fully accredited Police Station Representative and is a member of the Law Society Criminal Litigation Accreditation Scheme. He is currently positioned at our Birmingham Offices on the Magistrates' Court team.