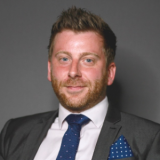 Christopher Wall
Office
Nottingham
Contact tel
08452003367
Chris heads the Nottingham team and brings a wealth of experience having specialised in Criminal Defence for two decades.
Since qualification Chris has been based in Northamptonshire, Nottinghamshire and Leicestershire and has built up a successful client following wherever he has been.
Chris deals with all aspects of Criminal Defence from Police station through to conduct of matters in the Crown Court. Chris has had conduct of countless cases which have included Murder, Fraud, People Trafficking, Sex Offences and large Drug conspiracies. Chris will not only fight tirelessly if you are before the Jury at the Crown Court but will also apply his skills and efforts to any client who finds themselves before the Magistrates Court.
Chris continues to have a passion for his chosen discipline and client welfare remains at the forefront of his goals. Chris can still be found at the Police Station in the early hours of the morning.
Chris also specialises in Road Traffic offences and will fight as hard to keep your driving license as he does to keep your liberty.
Chris is a skilled advocate and remains committed to continually improving this essential part of his skillset.
SAMPLE OF CASES CONDUCTED
R v W (2008) – Murder
R v I and others (2010) – Multi-handed 'crash for cash' fraud
R v T and others (2011) – People trafficking, kidnap, enforced prostitution, witness intimidation
R v R (2012) – GBH of an infant
R v M (2012) – Professional Rugby player acquitted of GBH
R v C and others (2013) – large scale multi-handed conspiracy to supply drugs – represented the only defendant to avoid a custodial sentence
R v L and others (2013) – Multi-handed fraud targeting elderly vulnerable victims. Custody avoided.
R v F (2014)– Historic Rape
R v W and other (2014) – large scale fraud against royal mail. £1.3 million original figure
R v O and others (2019) – Multi –handed conspiracy involving theft of 10 shotguns, linked to county line drug supply. Acquitted
R v E (2021) – Magistrates Court Trial. Defendant faced sexual assault allegation against an off duty female Police Inspector at a nightclub. Acquitted.
R v S and others (2022) – 20 handed conspiracy involving theft of rail from Network rail where the value was well in excess of £1 million. Represented Defendant who was one of few acquitted.