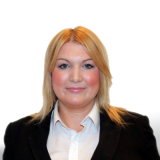 Claire Parrott
Office
Manchester Bury
Contact tel
0161 233 4321 (ext.1061)
Mobile
07983 443 274
Position
Senior Partner
Practices
Claire has been working in criminal defence for 25 years and has been working for Tuckers Solicitors for 20 of those years working along-side Franklin Sinclair.
Managing Partner of the North West and West Yorkshire.
Claire has an enviable reputation for successfully representing clients facing the full range of allegations.
As a committed and highly respected criminal defence advocate, Claire is able to represent the interests of clients charged with all types of offences from police station level right the way through to Magistrates Court trial.
Claire regularly appears at Police stations and Magistrates Court across the North West and West Yorkshire Magistrates Court, representing clients facing a wide range of criminal allegations.
Claire carried out both private and publicly funded Criminal defence work.
She has a unique passion for defending vulnerable clients and is always keen to ensure the best possible result for every client. Claire has a committed and tailored approach, ensuring exceptional client care to each Client and their specific needs.
A seasoned Litigator in very serious Crown Court matters. Her meticulous case preparation and advocacy skills enable her to achieve the best possible outcome for her clients and, despite her robust and pro-active approach to each case, Claire remains very sensitive and patient in all aspects of dealing with clients.   Working together with some of the country's best Barristers, High Court advocates and Kings Counsel.