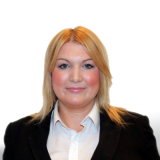 Claire Parrott
Office
Manchester Bury
Contact tel
0161 233 4321 (ext.1061)
Mobile
07983 443 274
Position
Legal Executive
Practices
As of one the country's first criminal defence ILEX advocate's, Claire has an enviable reputation for successfully representing clients facing various allegations, such as Harassment, domestic violence offences, s.47 Assault (Actual Bodily Harm), s39 Assault (Common Assault), Criminal Damage, Theft but to name a few.
A unique passion for defending client's who face allegations of Harassment, Claire's meticulous case preparation and advocacy skills enable Claire to achieve the best possible outcome for her clients.
Claire's career in criminal defence work spans over a decade, within which time, Claire has prepared a vast volume of cases for trial in both the Magistrates' and Crown Courts.
Claire has developed alliances with a number agencies to assist in this area such as 'Pro-Contact' and 'Families need Fathers'. Despite her robust and pro-active approach to each case Claire remains very sensitive and patient in all aspects of dealing with clients.  Claire has vast experience in dealing with vulnerable Clients, for example those with mental health issues or learning difficulties.
Notwithstanding Claire's niche area of practice, she successfully represents people facing various allegations such as Theft, Dangerous Driving, Fraud, Affray, S.47 Assault and many more besides.
As a committed criminal defence advocate, Claire is able to represent the interests of clients charged with all types of offences from police station level, right the way through to Magistrates Court trial