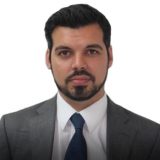 James Higbee
Office
London Brixton
Contact tel
020 7388 8333 (ext.6688)
Mobile
07970 595 409
Position
Solicitor Advocate
Practices
James is one of our leading Solicitor Advocates at Tuckers Solicitors. Trained at Fisher Meredith. James joined Tuckers Solicitors in 2008 and as been representing clients on a vast array of matters in the Magistrates Court and Crown Court.
He manages a varied case load and has particular expertise in youth crime, appeals, road traffic and public order offences, serious fraud, sexual offences, violent crimes, public disorder and abuse cases.
James is the first point of contact for road traffic cases in South London.
James is a member of Liberty, SAHCA, LCCSA and Amnesty International.
Cases
R v ME: Prolific Sex Offender, historic abuse case
R v DH: Violent Disorder, mass arrests in the Croydon riots of 2006
R v JD: Football related violence, undercover police
R v LD: Gang related youth violence
R v LL: High value business fraud, multiple defendants