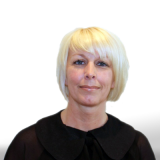 Justine Fairfield
Office
Manchester Mosley Street
Contact tel
01612334321 (ext.1012)
Mobile
07984 514407
Position
Senior Caseworker
Practices
Based at our Manchester office, Justine has built an enviable reputation for her dynamic, knowledgeable, professional pro-active approach to the criminal defence work she undertakes.
Justine has developed a niche area of practice in representing client's who face allegations of a sexual nature, such as Sexual Assault, Rape, Gross Indecency but to name a few.
As a dedicated Criminal Defence lawyer, Justine's tenacious approach often involves securing evidence to support her client's case; this can take the form of Social Services records, previous allegations made by the same alleged victim, cell site analysis, mobile telephone evidence and forensic computer analysis.
Justine enjoys membership on the firms VHCC Panel and has done for many years, as one of the firms Very High Cost Case panel members, Justine can often be found sifting through reams of the most complex and sensitive evidence.
People unfortunate enough to find themselves facing allegations of Sexual Assault, Rape, Gross Indecency, are fortunate to receive the robust yet sensitive approach taken by Justine.
Notwithstanding Justine's niche area of practice, she successfully represents people facing various allegations such as Murder, Manslaughter, Theft, Robbery, Dangerous Driving, Fraud, S.18 Wounding, Affray, S.47 Assault and many more besides