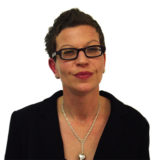 Kirsty Craghill
Office
Sussex - Brighton
Contact tel
01273 692020
Position
Consultant
Practices
Kirsty Craghill qualified as a solicitor in 2000. She is a duty solicitor and a higher courts advocate.
This means that she can represent you from the police station right through to conducting the advocacy of your case in the crown court and in the court of appeal.
She has specialised in criminal defence since she qualified. Kirsty Craghill is the co-author of 'On your feet: magistrates' court', a book specialising in magistrates' court advocacy and court procedure.