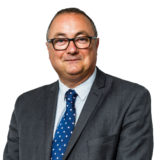 Paul Shingleton
Office
Kent - Margate
Contact tel
0300 303 3883
Position
Partner
Practices
Paul Shingleton has been part of the East Kent Justice system for many years. Having qualified in Economics/History at Leeds University in 1986, he remained in Leeds to pass his Law Society Finals. He successfully gained a training contract for a Legal 200 multi disciplinary firm in East Kent, which led to his  qualification in February 1991. Paul became a partner in 1993, fronting Boys and Maughan's criminal department, making it one of the most successful practices in East Kent.
In March 2003, Paul and Scott Neilson set up a new criminal practice, Shingleton Neilson solicitors, which grew rapidly to become a very successful firm in the East Kent area, built on own clients and a good reputation with the Courts.
In November 2010, Shingleton Neilson merged with a local competitor to become Kent Defence Ltd and by the end of 2012, Kent Defence were the number 1 firm across Kent in terms of police station work and Representation orders. This was built on the reputation to offer an excellent service to clients and a "take no prisoners" attitude with the police, which Paul continues to support in the new venture with Tuckers Solicitors.