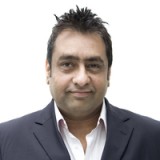 Shab Aslam
Office
Manchester Mosley Street
Contact tel
01612334321
Position
Police Station Advisor
Practices
Shab is a Criminal Defence representative in Manchester.
With over 25 years experience in all areas of criminal law, Shab's ability to represent the most serious and complex matters knows no bounds.
As a senior member of staff, Shab is one of Manchester's most well respected police station advisors by both his peers and his client's alike.
Such is his reputation that Shab's client-base spreads across the North West of England and beyond.
With specialist knowledge in complex and serious matters, such as Terrorism, Murder and Complex Carousel and White Collar Fraud, this list is no exhaustive but is a sample of the type and level of work he regularly defendants.
At the heart of any criminal proceedings is the police investigation, an ability to think on his feet and critically analyse the prosecution case, are part of Shab's many enviable qualities that sets him apart from the crowd.
It is for these reasons that Shab mainly attends police stations to represent the interests of people unfortunate enough to find themselves in police custody, hence giving them the best advice which will place them in the best position in the event of a prosecution.