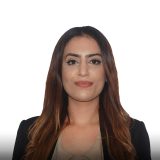 Farva Butt
Office
London Warren Street
Contact tel
02073888333
Position
Trainee Solicitor
Practices
Farva Butt is a trainee solicitor in the Civil Liberties, Human Rights and Police Actions Department. She assists senior solicitor Andre Clovis with his case load.
Farva assists in the representation of people pursuing complaints against the police and challenging outcomes of decisions through appeals to the Independent Police Complaints Commission. She is keen to ensure disciplinary proceedings against officers are found where appropriate and in a fair and just manner. Farva also assists in the representation of individuals bringing compensation claims against the police for assault, false imprisonment, trespass, malicious prosecution and misfeasance and breaches of the Human Rights Act.  Throughout her training Farva has assisted in the representation of families in Inquests usually involving police pursuit deaths  and with CICA claims where substantial harm has been suffered.
Farva's has a keen interest in Crime Defence work and as part of her training contract will move to the Crime Team where she plans to become police station accredited and thereafter upon qualification, obtain Duty Solicitor status to represent people in the Magistrates Courts.
Farva intends to return to the Police Actions Department upon completion of her training and continue to identify and challenge abuses of power by the police and other state bodies.
Farva is a member of Police Actions Lawyers Group, Inquest Lawyers Group and Young Legal Aid Lawyers.